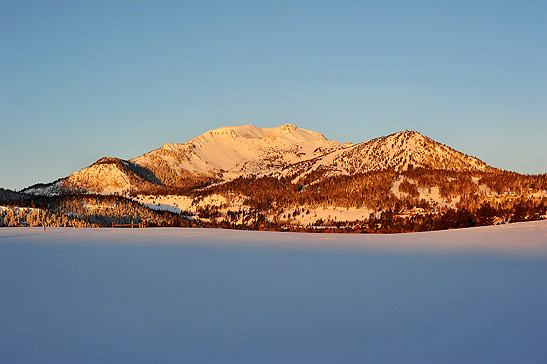 Braving Mammoth Mountain
By Ringo Boitano
Photographs courtesy of Mammoth Mountain

here was a look of horror on his face. I easily had 30 pounds on him, and probably the same in years. A collision would certainly be of greater harm to him than to me. For just a fraction of a second our eyes met. He then made a perfect Stem Christie to the safety of the hill on my left. I did my best to stay vertical, but then took an embarrassing spill under watchful eyes. As I caught my breath, I looked up at the towering mountain with skiers above me. I remembered what a friend had told me earlier, "If it's been that long since you last skied, then a beginner's ski class is advised." That beginner's class would begin tomorrow.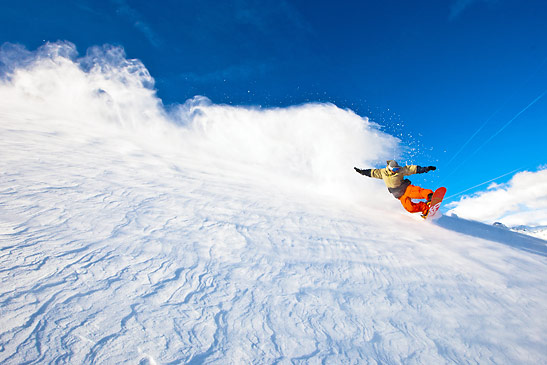 Mammoth Mountain Ski Area
Located in the heart of the Eastern Sierra mountain range, Mammoth Mountain is a mere five hour drive from Los Angeles, and seven from San Diego. There's also air service from both. The highest ski resort in California, Mammoth Mountain has been enticing skiers (and now snowboarders) since the first ski lift was built in 1955. With more than 3,500 skiable acres and over 400 inches of snow per year, it has one of the longest ski seasons in North America, generally from November into June. It's an all-skiers' resort with terrain ranging from gentle groomed runs to steep chutes, as well as tree-lined cross-country skiing, snowmobiling and luxury snowcat tours. A literal highpoint is the Panorama gondola, the highest lift-serviced peak in California, which transports you to 11,053 feet for breathtaking panoramic views. The new RFID Life Pass offers direct-to-lift access where you can re-load your lift tickets online or via your smartphone, combating the problem of long lift and ticket lines. A wide range of accommodations are available that includes luxury homes, fully-equipped condominiums, lodges and budget-friendly motels.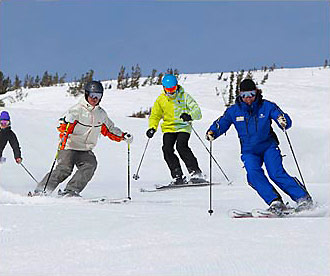 Mammoth Mountain Ski School
As I joined the ranks of beginning skiers the monkey wrench tightening in my gut made me wonder if I had made the right decision. I was never good at group instruction and the boot camp sequences from Full Metal Jacket came to mind. Before I could duck out, we were approached by our AASI/PSIA certified instructor. After formal introductions, he proceeded to tell us a couple of jokes and we were immediately in laughter – and, most importantly, relaxed. We started with the most basic of instructions. With a strong emphasis on safety, he made us understand that we were always in control of our actions. An hour later we were taking baby runs down the hill. "The better you get, the more fun you'll have," smiled the instructor The group lesson proved to be an easy social gathering, making friends with other students. At the end of the day it was obvious why the ski school is consistently rated one of the finest in North America. I couldn't wait to hit the slopes the next morning.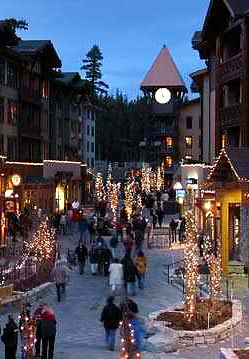 But first it was important that I get an objective overview of Mammoth's après-ski pleasures, represented in Mammoth Village's plethora of restaurants and bars, many offering live entertainment. It would also be a good time to review my ski safety tips:
WEAR LAYERED CLOTHING: Pack a shirt, sweater and jacket, adding or removing articles as needed.
WEAR SUNGLASSES & USE SUNSCREEN: You need protection from damaging rays reflecting off the glaring white snow.
WEAR A SKI HELMET: Yes, they look ridiculous, but wearing one might be the difference between life and death.
KNOW THE SKI CONDITIONS: Ice and deep powder are more dangerous than manicured terrain, so adjust your skiing style accordingly.
START SLOW & EASY: Let you body adjust to the altitude, and protect unconditioned muscles by taking easier runs for the first few hours.
BEWARE OF ALTITUDE SICKNESS: Know the symptoms – headache, weakness, nausea, confusion, and shortness of breath.
BE CAREFUL IN THE AFTERNOON: Most injuries occur late in the day when you're tired and slow to react, and the sinking sun sends confusing shadows across the snow.
USE ICE, NOT HEAT: For minor muscle pull or strain use ice to reduce swelling and ease pain.
WAIT FOR THE SKI PATROL: If you're hurt you can make an injury worse by trying to get down the mountain yourself.
DO NOT DRINK ALCOHOL: It slows reaction time and leads to accidents. Wait until the day is over to enjoy a drink.
For further information, log-on to www.mammothmountain.com.
Related Articles:
Hitting the Slopes at Big Bear Lake; Whistler Blackcomb Resort; Sun Valley: America's First Destination Ski Resort; A Short Whistler Stop