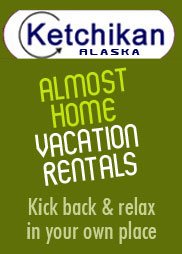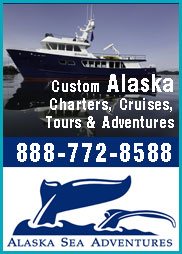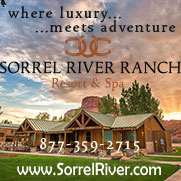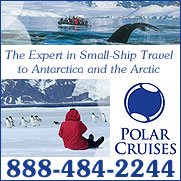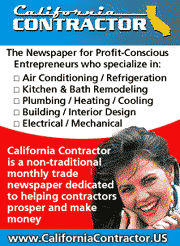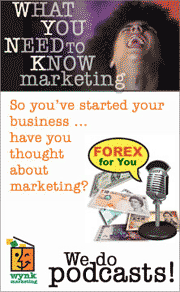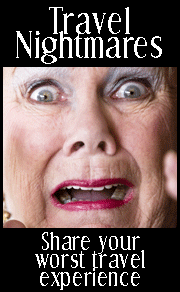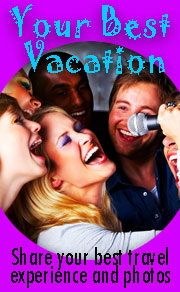 London's 34 Restaurant:
Linger with a Leisurely Weekend Brunch
Story by Ruth J. Katz
Photos courtesy of Caprice Group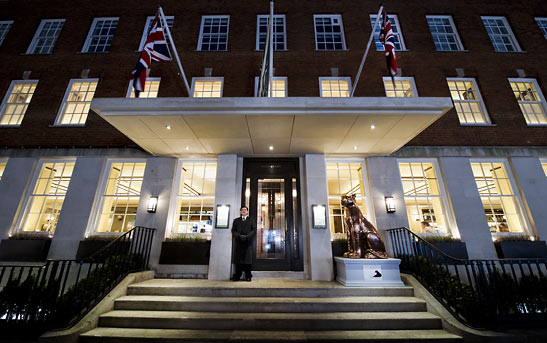 et just off regal Grosvenor Square, 34 is an elegant oasis in a region, Mayfair, which is a haven in and of itself. A relative newcomer to London's restaurant firmament, 34 has become an instant culinary classic. With its burnished ginger banquettes, rich oak parquet flooring, and open kitchen as a centerpiece, it has fashioned a welcoming hearth and homey table for visitors; and indeed, there is a literal hearth, 34's charcoal grill (custom-built in Argentina) .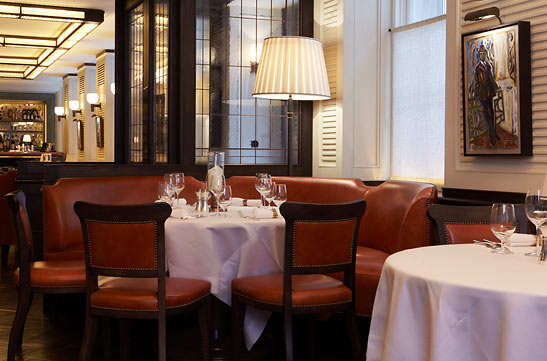 Part of the Caprice Group, 34 is a sister restaurant to the many bold-faced names in the group: Le Caprice, Scott's, The Ivy, and the destination restaurant, Daphne in Barbados (where I dined a few years ago and where I murmured to myself after my meal, "That is one of the best meals I have ever enjoyed.") In addition, under the company umbrella are some of London's most prestigious private clubs, including Annabel's, George (where the hamburger is to-die-for), and of course, The Club at the Ivy.
34's remarkable grill, fed by natural fuels, is known as a parrilla and is ideally suited for the kind of meat repasts for which the Argentines are lauded – the cornerstone of which is the churrasco, the beef (usually) which is prepared in the Argentine churrascaria, or beef restaurant. Head chef, Harvey Ayliffe, has developed an eclectic menu, using the grill not only for beef, but also for seasonal game, fish, and shellfish. The beef served at 34 includes Scottish, dry-aged, grass-fed; Australian Wagyu; and US prime, corn-fed beef from particular ranches with which the restaurant has a relationship.
Weekend brunch is a lovely treat here and on a balmy Sunday, I enjoyed my meal there, as well as a stroll around the nabe. First, ask for the ingenious drink menu, as there is an entire page devoted to Bloody Mary and her cousins.
After fortification, then dig in: My colleague savored the lobster Thermidor omelette, so rich and creamy it was sinful; the crab and grilled asparagus frittata was a great twist on a classic, as were the buttermilk pancakes with cured bacon, which we drenched in sweet maple syrup.
The smoked salmon, dill, and bacon hash was an extraordinary combo, and the pan-fried calf's liver, with maple-cured bacon, pickled shallots, and sage was a savory and succulent main course. There are also a few interpretations of American classics, like the Southern fried chicken/coleslaw sandwich and the 34 hamburger, with dill relish. (Oh, did I mention that the menu also sports – get this – lobster macaroni. Talk about obscene.) Save room for dessert, as it's another walk down Tasty Lane: roasted plum, caramel, shortbread, and brioche ice cream; warm almond and honey cake with roasted figs and yoghurt ice cream. Ummmmm...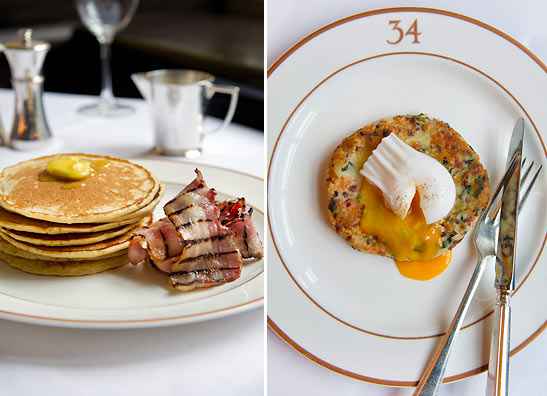 As for the ambience, designer Martin Brudnizki has taken inspiration from English, Edwardian, and Art Deco styles. The bar, at which guests can dine or enjoy an aperitif, has garnered awards and is the perch for the house pianist, Sunday to Wednesday evenings (and from Thursday to Saturday, a jazz trio performs).
If you luck out and have as lovely and balmy a day as I had, then walk over to Grosvenor Square (home to the American Embassy until the new one is built), where you can sit and enjoy the serenity of the outdoors. Pay respects at Britain's 9-11 memorial, honoring the 67 British citizens who died that day. There are two pergolas, with quiet seating, where you can enjoy a contemplative hour.
Restaurant 34: 34 Grosvenor Square (entrance on South Audley Street), London, W1K 2HD; telephone: + (0)20 3350 3434
Related Articles:
Paparazzi at the Osteria; Modern Charlevoix Dinner Reminiscent of Historic Battle for Quebec; Linnertime in Spello; TAPAS: Opposite Sides of Madrid's Culinary Coin; A Dark and Foodie Night;



Let Ruth know what you think about her traveling adventure.
* * * * *


Eugene Chaplin Introduces Chaplin's World Museum in Vevey, Switzerland

Lake Geneva/ Matterhorn Region and Switzerland Tourism recently blew into Los Angeles with the most esteemed guest, Eugene Chaplin. A man of remarkable lineage, he is the fifth child of Oona O'Neill and Sir Charles Spencer "Charlie" Chaplin, the grandson of playwright Eugene O'Neill, the brother of Geraldine Chaplin and father of actress/model Kiera Chaplin.


Treasures of Ireland: The Burren (Dispatch #14)

The Palladian Traveler ventures back to the days of fearless Celtic warriors to search for some "stones to take you home" as he files his latest dispatch from the monochromatic moonscape known as The Burren.


Buckingham Palace – It's THE Most Popular Tour in Great Britain (Part 2 of a 2-Part Series)

Is it more momentous for a Brit to do the Buckingham Palace tour than say an American or indeed any other nationality? Yes, I know that's an odd question, but if you grow up – as I did – in London back in the 1950s, getting inside Buckingham Palace was the stuff of dreams. Hence my surprise at touring BP in 2005.


Paradise on Earth: The Romance of Tahiti and Her Islands

The first thing you notice is the fragrance. The intoxicating perfume of the tiare flower announces to your senses that you are in a magical place, overflowing with tropical vegetation and soothing trade winds. It is the same fragrance that the English seamen on the HMS Bounty also first encountered; but they came, not for flowers, but for breadfruit, intended as a new food staple for their slaves in the West Indies.


Provence: As Much a Mood, a Spirit as a Destination

"On a Clear Day You Can See Forever" goes the song. Robert Goulet sang it and Barbra Streisand and Johnny Mathis, too, and it surely comes to mind when you stand on a bluff in the Luberon of Provence and stare across at the little hill village of Gordes. The view is the best part; the village's interior itself is not dramatic and stands as a warning of what contemporary popularity can do to the simple homes of 12th century working people.


Exploring Venice: Lost and Found. And Special Finds. Repeat.

Walking home to our apartment in Venice, we share a wave through the window with the owner of Baba, our local osteria. Leaving for a day of sightseeing, a cup of my favorite pistachio gelato awaits me despite the early hour. At the Bar Dugole, we relax after a day of sightseeing and order the regular: vodka for my husband and Amaretto for me.


Crooked Eye Tommy: 'Butterflies and Snakes'

When you load the CD Butterflies and Snakes into your sound system, you know from the onset Crooked Eye Tommy isn't your run-of-the-mill blues band. The entire recording is based around multiple styles, assorted genres and two lifetimes of influence. From the swamp-like vibe of the opening track through the weeping steel guitar highlighting the finale there's a brand new, old school familiarity that resonates throughout each one of the 11 original songs.


Traveling with Beautiful Boots and a Bison Backpack

People often asked about my favorite travel apparel and gear. This happened to me at the airport recently. One question came as I was putting back on my clothes after going through the TSA checkpoint striptease. Before leaving the area, I heard a soft voice say, "hey, I really like your boots. Where did you get them?" Looking up, I found a uniformed employee staring at my feet.


La Paz, Baja California Sur

Photographer Deb Roskamp focuses her camera on La Paz, Baja California Sur. The resort property is CostaBaja, and the boat tours, which include snorkeling at the UNESCO protected site, Isla Espiritu Santo, were conducted by Fun Baja. The photographs are intended to speak for themselves.


Vienna: In Search of Mavericks

Thanks to a Eurail Flexipass, allowing random infiltration on whatever days I deem necessary, Vienna presents itself to me as a global epicenter of both traditional creativity and avant-garde lunacy. I can easily follow in the footsteps of tradition, but so much of the maverick spirit emerges instead. This is what Vienna does to me.


The Impossible Happened: Itís Time to Get to Work

All of us are stunned, across the entire political spectrum, by the results of this election. Many are both sickened and saddened, while others are jubilant. I am guardedly optimistic. I think it's too early to despair, or to celebrate. In my experience nothing is ever as bad as it seems, or as good. But there is great cause for concern.


Japan: Bullet Trains, Monkey Shows and Whale Steaks

Last month, I went to Japan for three things... Ok, let me back up a little bit already. The #1 reason I went to Japan was to visit my girlfriend, Yuki, and she will kill me if I don't say that, so there it is. Hi Yuki! Anyway, so after that, reasons number 2, 3, and 4 were the following: I wanted to ride a bullet train, go to a monkey show, and eat a whale steak. That's right. That's right.


Boulderís Sunrise

The enormous Sonora Desert, a colossal 120,000 square miles of splendor that spreads like a great tapestry of textures and colors across international boundaries from Arizona into the State of Sonora in northern Mexico is one of North America's grand, untrammeled natural treasures. The complex, sun-blessed region of bright dry heat, brilliant low-hanging stars, and long, ever-changing shadows that shift with the sun as they drape like endless silhouettes across craggy walls, mountain ridges and hidden canyons, is a vibrant land with tales to tell.




Travel's Triumph over Terrorism





After a three-month adventure seeking beauty in the world, many thoughts race through your mind, especially when you have quit your job, run out of money, and have no clue what comes next. However, a philosophical discussion on the meaning of life with a perfect stranger is not one of them.


Seville – The Most Gay-Friendly City in Spain

I find it nearly impossible to sleep on airplanes. When I couldn't sleep on the overnight Delta flight from New York to Andalusia last September, I scrolled through the movies (blah) and other entertainment (double blah) until I came across the TV show "Game of Thrones". I knew of it, that it was bloody and sexy, but had never seen it. I watched more than heard three episodes before dozing off. As I found out later, it was the perfect introduction to my visit to Seville, Spain.


Leviticus 20:13
Sent by Tom of Pasadena, CA



It all makes sense now. Gay marriage and marijuana was legalized in the last election. Leviticus 20:13 states
"If a man lays with another man, he should be stoned..." We've been interpreting it wrong all these years!




Love Is Better the Second Time Around (Lake Como)





As our wedding plans came together in the summer of 2007 my fiancée Dorothy and I began to focus on the honeymoon. Hawaii? New York? London? Paris? Rome? Both of us had travelled to these iconic places in the past, but in our conversations we quickly realized that neither one of us had ever had a truly romantic visit to any of these wonderful destinations. Dot and I had both been in long-term, "complicated" marriages, where romance had not been on the plate for many, many years.


The Last Place You'd Visit: A Few Days in Europe's Least Visited Country

I'm a biased traveler. Having fallen in love with Europe on my first trip to Italy with my father as a 14 year old, it is to this continent that my travel plans always seem to lead. I return to somewhere in Europe now every May to see old friends and favorite cities. But with each trip, I have a firm goal: to fit in at least one new country every year.
---
© TravelingBoy.com. All Rights Reserved. 2015.
This site is designed and maintained by WYNK Marketing. Send all technical issues to: support@wynkmarketing.com